Introduction: The Problem Domain
We are developing a new software system for the support of an all-electric, solar-powered recreational vehicle.

We will be utilizing and re-engineering the existing hardware and software from a recent HEV, the 2002 AVS 22-foot hybrid-electric shuttle (AVS history). We acquired this bus in a surplus auction (and purchased a second surplus bus for spare parts) and will be converting it into a prototype REV (Recreational Electric Vehicle) to serve as the hardware platform for our software development.

The first surplus AVS shuttle bus (#135) was purchased from Broward County and was sold to us as 'non-operational'. We had it towed to our facilities. It came with an intact Capstone microturbine, two Solectria AC-55 induction motors, and 50 sulphated Deka Gel 100ah size-31 batteries. We have not yet been able to restore this bus to running condition.

The second bus (#168), which we purchased for parts, came without the Capstone microturbine, and was also sold to us as 'non-operational', but we have succeeded in putting a charge on the old gel batteries, and have driven the bus 'around the block'.

Both buses had damage done to their rear body panels, as well as missing parts. Of course, the biggest problem we face in restoring one or both of these buses to road-worthiness is the lack of manufacturer support. AVS went out of business in 2003, and many of their sub-contracting partners are out of the business and no longer support their component products.

Can we power this bus from the sun?
Bus #135, with Capstone microturbine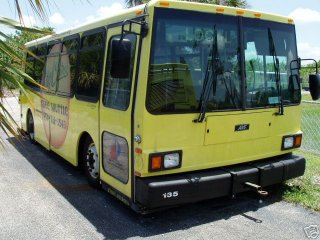 Bus #168, no turbine, but it runs!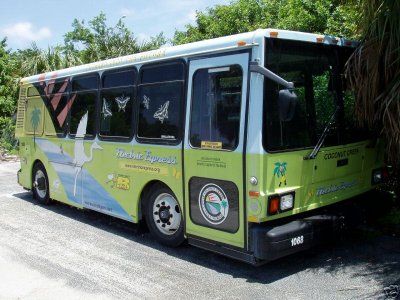 Bus #168, rear damage from a bus-yard collision.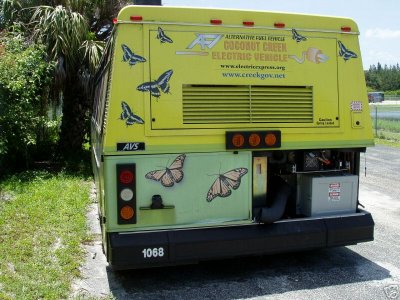 Bus #168, inside, where we find the damaged rear door.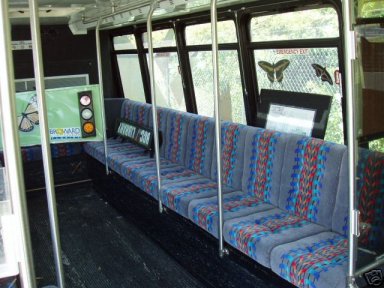 Bus #135, displaced bumper, some frame damage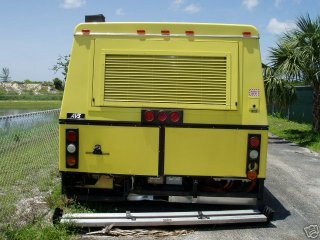 Bus #135, interior driver's seat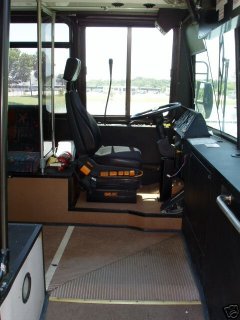 We may have to strip our bus to its frame